My Gastric Bypass experience at the Wellness Kliniek is very positive. I'm so happy that I made this decision. I enjoy the compliments I get and would recommend it to anyone!
Testimonial
05/02/2021 by L.C.
I found the Wellness Kliniek through Google. I decided to have a gastric bypass. I'm so glad I made this decision. I enjoy the compliments I get from everyone and would recommend it to anyone!
Gastric bypass: an important choice
I had been struggling with myself for many years. With a height of 165 cm and 98 kilos, I was overweight. The 100-kilo mark was getting awfully close and it was clear to me something had to be done. Many attempts at dieting invariably came to nothing. I love the good life too much.
We had a traumatic experience over 10 years ago when our daughter died at the age of 11. After a while, I just wanted to have a good time so I wouldn't have to think about emotions. This was detrimental to my weight. When my job changed from a very physical one to an office job six years ago, it didn't have a positive effect on my weight either.
From a medical point of view, it was no longer responsible to continue living like this. I suffered from hypertension, high cholesterol and painful joints. In the Netherlands, I wasn't immediately eligible for a gastric bypass because my BMI had to be higher. I didn't want to wait any longer and started looking for a solution.
The time has finally come
Via Google, I ended up at the Wellness Kliniek. I took the plunge and phoned them. The first contact was established and an appointment was made. Two weeks later, I went for an intake with doctor Heylen. I was extensively informed about the procedure, the advantages and disadvantages. I was wildly enthusiastic. I was overwhelmed with information and went home to let everything sink in. I was convinced and the date was scheduled.
Unfortunately, corona postponed the first date. A major setback, but understandable. Two months later, the time had come and I was sitting in the car with my knees buckling. At the Belgian border, there was still plenty of traffic control. We had to show the border authorities the e-mail about the procedure and then we were allowed to cross the border.
The day of the operation
My husband dropped me off at the door of the Wellness Kliniek. Unfortunately, he was'nt allowed inside because of the measures. I really had to do it on my own now, but it wasn't that bad. I was received very kindly and given my own room. It looked like a hotel room, but with a hospital bed. That's when I started to get very nervous.
Everything went very quickly and I was taken to the OR. After the operation, it was a bit rough. As if I'd been hit by a car. Every movement hurt. After a two-day stay, I was allowed to go home. After a few days, I started to recover and was able to gradually start eating. In the beginning, it was mainly liquid or crunchy food and small bites. The food tasted good right away. I didn't suffer from dumping. I was prepared for this, but fortunately, I don't suffer from it.
I can't believe my luck
It's now eight months since the operation and I weigh 23 kilos less. I have a totally different life. Everything has changed 100%. I can eat less, but that's fine. The compliments from everyone are a boost that I enjoy. A completely new wardrobe also makes me happy every day. Beautiful clothes that feel good again.
In short, I would recommend it to everyone! I feel really great.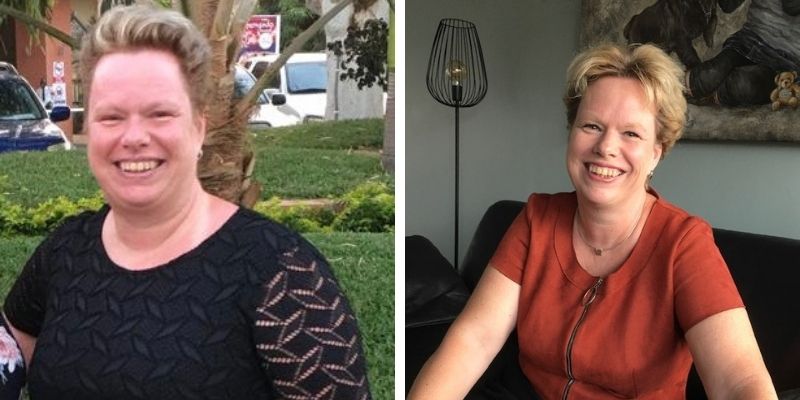 L.C.
Read more