Would you like to have a larger bosom and are you considering a breast enlargement? Then it's important that you gather as much information as possible about the different possibilities. At Wellness Kliniek, breast enlargement with implants is the most frequently performed procedure. In fact, we perform about 3000 of them every year. We will be happy to give you an overview of the types of breast implants and explain how many cc go in each cup size.
blog
01/03/2021 by Barbra
Types of breast implants
Just as there are different types of breasts, there are also different types of implants. So you can also choose the result you want. We offer most brands and only top-quality breast implants. The most trusted implants on the market are Laboratoires Arion, Motiva, Mentor and Sebbin. At Wellness Kliniek, you choose the desired implant together with the surgeon, without any difference in cost.
Silicone breast implants
Modern cohesive silicone implants are extremely safe. The inside is a solid, silicone gel encased in a soft but firm pocket. It cannot leak into the body in the event of a rupture and there is no increased risk of breast cancer. The silicone implants have a very attractive shape. They feel soft, almost like natural breast tissue.
Hydrogel breast implants
The hydrogel breast implants are also called water gel implants. These implants consist of 3.7% carboxymethylcellulose and 96.3% physiological serum (water) and are 100% biodegradable. Should a leak occur, your body will naturally eliminate the harmless liquid. These prostheses allow your breasts to be X-rayed.
Saline breast implants
These breast implants are filled with a special saline solution (physiological serum) after insertion. This solution is also completely harmless and will be removed naturally by the body in the event of leakage.
We will always consider together which implants are best for your body and your wishes. The surgeon will discuss this with you during the first consultation, which is free of obligation. This is also when you can ask any questions you may have.
Different models or shapes of implants
Not only can you choose the type of implant, but also various models such as round or drop-shaped. Depending on the result you wish to achieve, together we will look at which form is the most suitable for you.
Drop-shaped implants are more often used in reconstructive breast enlargements after breast cancer, for instance. Round implants are mainly used in ethical breast enlargements. These implants fill up the top of the breast more. However, the result is also strongly dependent on the current shape and volume of the breasts.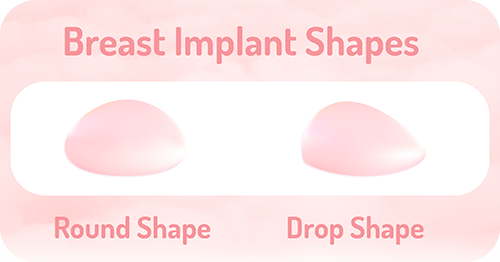 The profile of breast implants
The different profiles also play an important role. These may be extra high, high, medium or low. The profile is the distance between the implant and the breast wall. We determine this distance of the implants on the basis of the desired result. Want more fullness at the top of the breast or at the sides? Looking for a moderate or striking cleavage? Based on the answers to these questions, we will choose a particular profile together.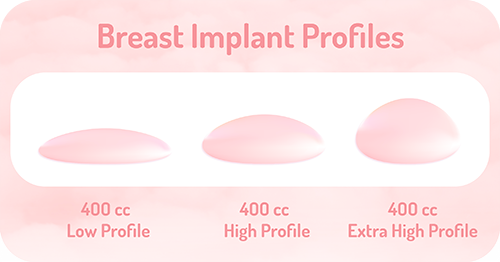 The volume of the implants
A frequently asked question is "how many cc go in each cup size?". To determine the size of the implant, we need to know the difference between your current and desired cup size. We also take into account the shape and size of your breasts, your build and the type of implants. The volume is different for everyone and we will measure you accurately to determine the volume or number of cc.
It is helpful if you bring along pictures of what you would like. During the first consultation, you will also receive fitting forms. This way, you can see which implants give which result. There are implants from 125 cc to more than 1500 cc. Depending on the amount of cc, your breasts will be one or more cup sizes larger. 95% of our patients are extremely satisfied with breast implants under 500 cc.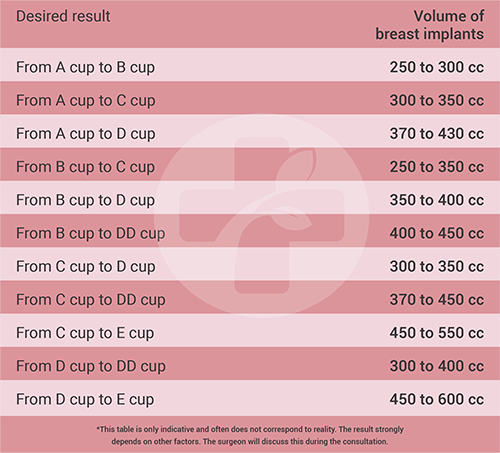 Are you considering breast enlargement with implants and would you like more information on the various possibilities? Book your consultation online and receive a 50% discount on the consultation.